IMPROVE SMALLHOLDER FARMERS' FAMILY LIVELIHOODS
An independent Smallholder family-centric approach, promoting the people  at the center of the sustainable development program design process.
Smallholders, independent farmer families are the cornerstone of responsible, inclusive, rural economies and sustainable agricultural production systems.
Many smallholder farmers, working on farms often less than 2ha in remote locations, are not working within real cooperatives, associations, or other coordinated and structured approaches – which may, under specific circumstances, better protect their rights and interests. These smallholder farmers tend to be the most vulnerable of the population and  often live in remote locations with little access to market information and not necessarily familiar of sustainable agricultural practices. 
These Independent smallholders, their families and communities are at the heart of the FarmStrong Foundation program design process.
FarmStrong Foundation believes that a key success factor of its programs is understanding the problems, dissecting the underlaying root causes. Uproot the root causes, putting yourselves in the shoes or flipflops of the target group. Looking through their lens. Then sequencing the bottlenecks in the most efficient way. Independent smallholders know that they can rely on FarmStrong Foundation's engagement and capacity, and this, despite distances and topographical challenges, to deliver tailor-made solutions . They can also count on the Foundation's commitment to partner with them in the long term for as long as required and long-term sustainable impact is solidly secured.
HOW DO WE REACH OUT THE INDIVDUALS, GROUPS AND COMMUNITIES?
Through group trainings held at specific Farmer Field Schools and through personal and individual coaching our team and partners lead our programme of cocoa farm management. 
Farm husbandry entails training on all the work that needs to be done on the land to achieve a: healthy, disease-free, well-spaced, well-pruned, clean, adequately shaded, well-ventilated, soil protected, water conservation-conscious managed farm.
Good farm husbandry is the starting point, it is a condition sine qua non which needs to be achieved before resource allocation in any other activity such as fertilization, investment in new planting material but also phyto-sanitary activities, preventive or curative, are considered.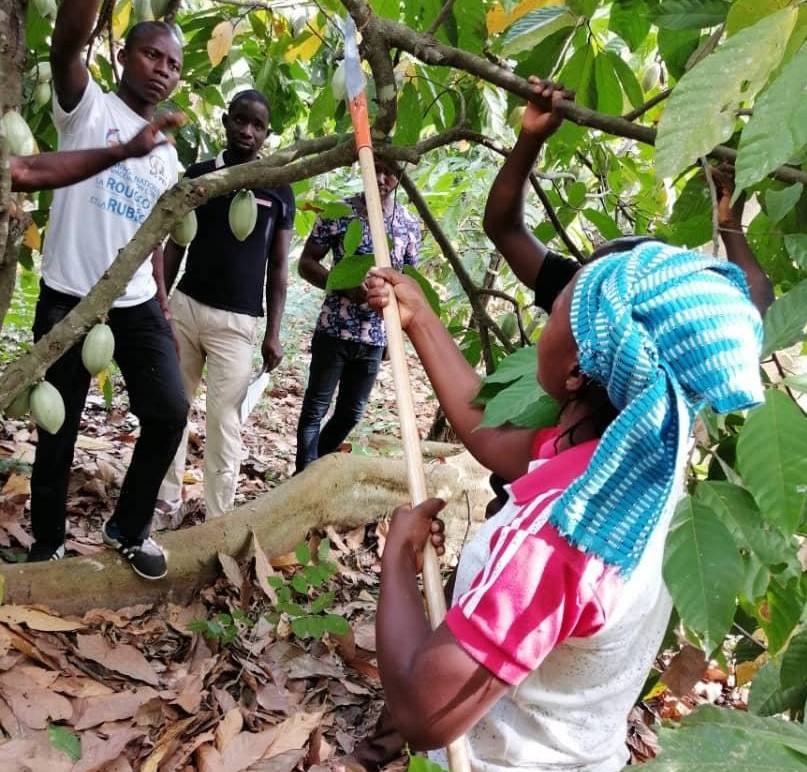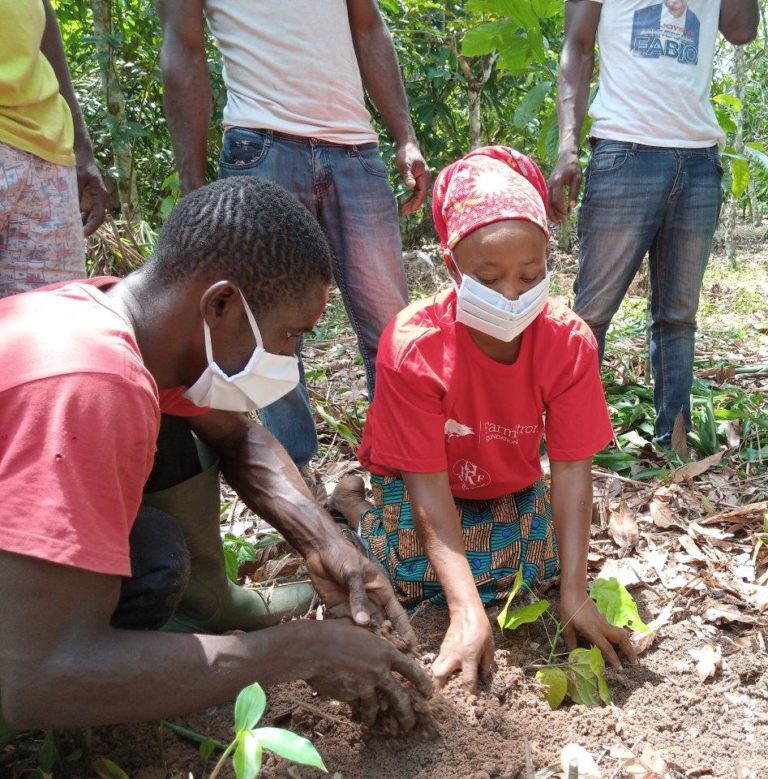 FARM REHABILITATION AND REPLANTING
The programs encompass the development of a tree rotation plan and an understanding of the tree's age profile. It also includes the careful choice of planting material with the most locally adapted genetic potential, withstanding the constraints of the specific area. Shade trees, cover crops, reviewing tree spacing and density.
Agroforestry : an agricultural production system based on a blend of forestry and suitable agricultural crops. This can by means of intercropping, the introduction of additional tree crops are all opportunities discussed and considered with farmers.
Firstly, dedicated trainings on soil management cover erosion prevention measures, water conservation, aeration, organic matter content, and chemical soil composition topics.
Integrated Pest Management, teaching how to identify pests and trees diseases, prevent them and/or eliminate them in the farms and surrounding areas.
Finally, FarmStrong Foundation agronomists, together with farmers develop adequate soil health management plan.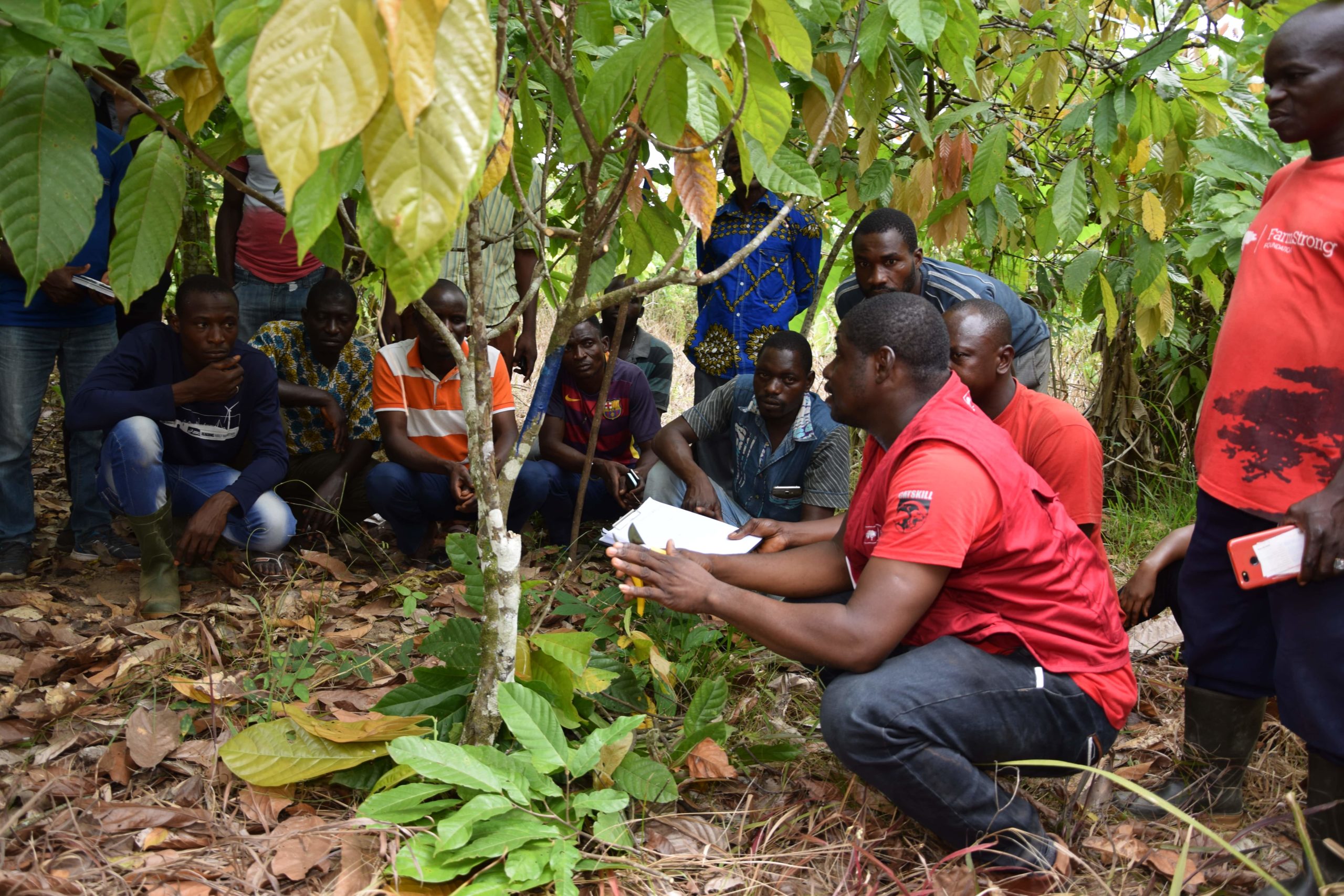 FARMERS OCCUPATIONAL SAFETY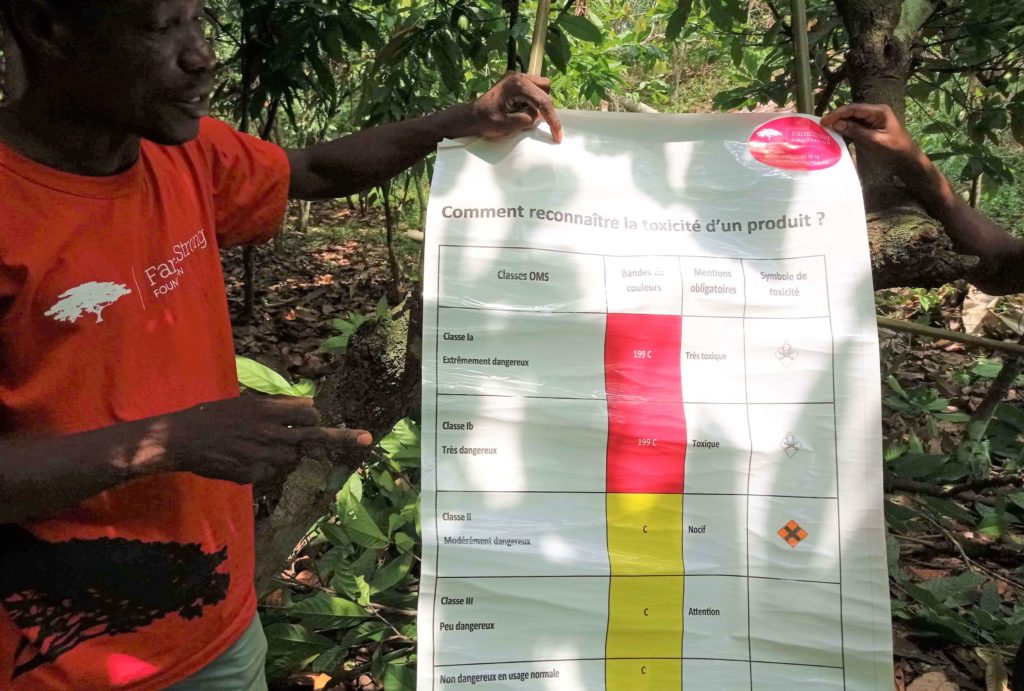 FARMERS COACHING - Farmer development plan (FDP) support - Farmer Business and finance training